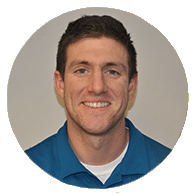 Dr. James E. Higgins received his doctoral degree in physical therapy from Nova Southeastern University in 2015. While in Physical Therapy School, Dr. Higgins gained Physical Therapy experience by completing various internships in the general hospital setting at Franklin Hospital, the nursing home setting at Townhouse Center for Rehabilitation and Nursing, and the out-patient setting at Metro Physical and Aquatic Therapy. After taking in each Physical Therapy setting and earning his doctoral license, Dr. Higgins found a primary interest in out-patient care.
While interviewing for positions, Dr. Higgins was impressed by Integrative Physical Therapy of NYC's patient centered and manual therapy based approach to Physical Therapy. Through his experience as a therapist and patient, he felt these two concepts were, and are, imperative for improving patient recovery and functionality. In early 2016, Dr. Higgins began working at Integrative Physical Therapy of NYC under the mentorship of Dr. Ruggiero and Dr. Willner. At Integrative Physical Therapy, Dr. Higgins has been able to treat various orthopedic, spinal, and sports-related injuries through practicing various manual therapy techniques and implementing Integrative Physical Therapy's model of patient care into his work. Dr. Higgins has recently completed a course in the McKenzie Method Diagnosis and Therapy of the Lumbar Spine and is centering his continuing education on orthopedic disorders and manual therapy topics.
When out of the office, Dr.Higgins enjoys living an active lifestyle, which includes; swimming, crossfit training, and triathlon training. He is also a member of the FDNY since 2016 and works out of Engine 14 in Union Square.